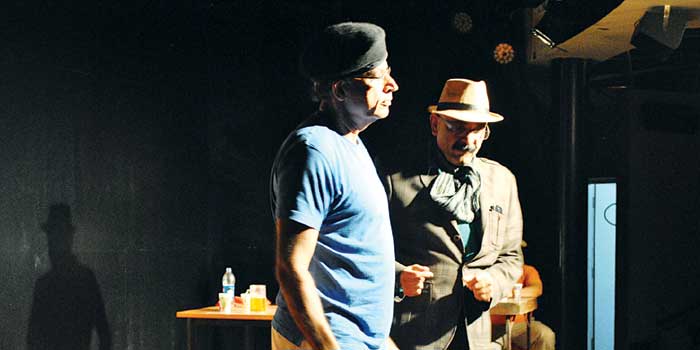 A retelling of the iconic Brecht play premieres on a  city stage
Forum-Three stages Schweyk in the Second World War, an engaging war musical that recounts the tale of a soldier named Schweyk. Written by celebrated German playwright and poet Bertolt Brecht in 1943, the plot retells the exploits of Schweyk during World War II, after having made it through the first world war successfully.
Forced into war, Schweyk, played by Sihi Kahi Chandru, faces extreme danger at the Gestapo Headquarters which was a military prison and a voluntary labour service.
"The plot is so relevant to our times. With a big war knocking at the door, the play renews its relevance every now and then. And doing Brecht is such a pleasure. His concept of Epic Theatre and idea of 'alienation' will keep the audience at the edge of their seats," says director Ranjon Goshal.
The common man
Based on Jaroslav Hasek's 1923 novel, The Good Soldier Svejk, the lead character is a bit of a half wit, yet with a strong sense of patriotism and some commonsense. He overcomes odds with humour until he comes face to face with Hitler.
Schweyk represents the average man caught in the devastation of war and seeks to capture his strong survival instinct. The original score for the musical, to be played live at each show, has been composed by Sudipto Das, and the dances choreographed by Sachin Kumar.
A theatre collective based in Bangalore, Forum Three has been entertaining Bangalore audiences for the last 38 years. Pushing the boundaries of theatre in the city, they have staged plays of Beckett, Badal Sircar, Girish Karnad and Arun Mukherjee. They've also translated and staged plays like Mareech, The Legend, Banchharam's Orchard, and An Audience with the King.
September 12-14.  At Rangasthala, MG Road Boulevard.  Tickets (Rs. 200) on  bookmyshow.com
—Rashmi Rajagopal